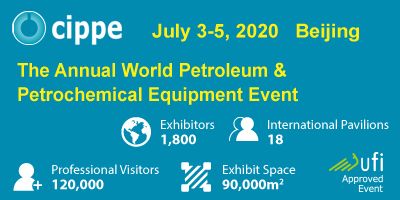 CIPPE 2020
Date: July 03, 2020 - July 05, 2020
Venue: New China International Exhibition Center
Beijing , CHN
http://en.cippe.com.cn/
View Equipment for this Auction
Updated 3/16/20
Notice of CIPPE 2020 Postponement
Due to the effects of the novel coronavirus infection in various parts of China and around the world the Beijing municipal government as issued an order for the postponement of the show.
Once new dates are confirmed there will post those dates when they become known.




cippe2020 is expected to welcome 120,000 professional visitors and more than 300 buyer delegations. The 12th International Petroleum & Natural Gas Summit, 2020 International Petroleum and Petrochemical Technology Conference, cippe2020 Embassy (Oil & Gas) Promotion Seminar, cippe2020 Business Matchmaking Meeting will be concurrently held; additionally with other technical seminars, new product press conferences, etc.
Contact Info
Contact: Yolanda Zhao
Phone: 861059273878
Fax: 861058236567