STUCKEYS SPECIALTY TOOLS Downhole | Fishing Tools - Casing Scrapers
Casing Scrapers
-

STUCKEYS SPECIALTY TOOLS

NOT SPECIFIED
-
Houston , TX 77039 USA
Casing Scrapers
-

STUCKEYS SPECIALTY TOOLS

NOT SPECIFIED
-
Houston , TX 77039 USA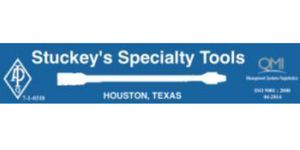 Stuckeys Specialty Tools
2511 Lunder Rd

PO Box 670287

Houston, TX 77039 USA

Map It
Auction Details
General Specs
Detailed Description
Casing Scrapers - Roto-Vert Casing Scraper - 
 
The Roto-Vert casing scraper is ideal to remove cement sheath, scale, perforating burrs, and other foreign substances from the inside walls of casing. The body and blade blocks of the Roto-Vert are machined from solid bar stock. The blade blocks are hardened by heat treatment to provide maximum strength and working life for the scraper.
​
The Roto-Vert operates successfully when rotated or reciprocated vertically either on drill pipe or tubing. The angle and direction of shear on the scraping edges of the blades guarantee that no imperfections are bypassed. Sizes range from 3 1/2" to 16" casing.
Report this listing