OIL WORKS INC Hoisting Equipment - Drawworks
Drawworks
New

OIL WORKS INC

2000
-
Odessa , TX 79760 USA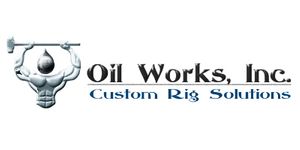 Oil Works Inc
2416 N FM 1936

PO Box 69170

Odessa, TX 79769 USA

Map It
Auction Details
Detailed Description
Drawworks - OWI 2000 AC DRAWWORKS

• AC drive motor, 2000hp continuous
Drawworks duty with 25 hp blower
assembly.
• Gear driven direct drive gearbox.
• Spring set air released braking
system for parking and emergency
braking.
• Electric motor driven positive flow
external lubrication system.
SPECIFICATIONS
• Nominal HP Rating: 2,000
• Prime Movers: HTM1800 1600hp AC
Drive Motor
• Maximum Input Power: 2,250 hp
(intermittent)
• Gearbox Drive Ratio: 9.909:1
• Drum Size: 31in.x54.25in.
• Drill Line Size: 1.375 in. (1‐3/8in.)
• Maximum Fast Line Pull: 95,500 lbs.
Report this listing