Tubular Rentals - Rentals | Leasing
General Services
Rentals | Leasing
Lake Charles , LA 70616 USA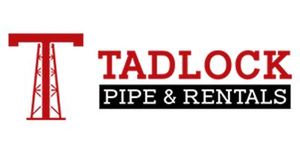 Tadlock Pipe & Rentals, LLC
Lake Charles, LA 70616 USA

Map It
Auction Details
General Specs
Detailed Description
Rentals | Leasing - Rentals
For oilfield tubular rentals Tadlock Pipe & Rentals can accommodate your job no matter how large or small. Our inventory includes tubing workstring from 1" to 5 ½" and our specialty…high pressure premium workstrings. With every string that is ordered we carry a complete selection of crossovers and handling tools to meet your needs. Tadlock Pipe maintains an ultramodern reconditioning process and integrated testing facilities. Tadlock beats the competition with low cost in house inspections along with on-site manual and CNC threading.

Delivery is not a problem as Tadlock's strength is based upon our ability to deliver what each customer deserves and expects….the best. Our company maintains a modern fleet of trucks to handle your delivery needs. Tadlock Pipe and Rentals provides convenient 24 hour rental service, 7 days a week.
Report this listing