Filter By
Back To Top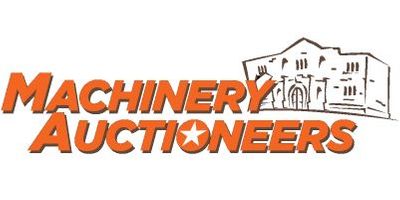 Machinery Auctioneers of Texas
19760 S. IH35

Lytle

,

TX

USA

78052



With over 30+ years of experience in auction and live event promotions, Machinery Auctioneers has what it takes to help in all your auction needs. Whether you want to consign with us, liquidate your company or purchase from one of our auctions, you can bet that our courteous staff will take care of you.Our San Antonio location is conveniently located on IH-35 S just 8 miles outside Loop 410 in Atascosa, Texas. We offer a well-lit and fenced-in 8+ acre auction location which can accommodate virtually any piece of equipment you may have. We take special care in properly displaying your equipment on auction day so that customers have plenty of room to walk around and view each item.
Showing 2 industry resource listings most relevant to your search. Additional industry resource listings were filtered out that may be similar, click here to view.
Use the Side Filters to your left to select only the makes or model / groups relevant to your search.
Use the "Filter By" button at the bottom of your screen to select only the makes or model /groups relevant to your search.
OILFIELD EQUIPMENT, BIG TRUCKS & TRAILERS, CONSTRUCTION MACHINERY AND MUCH, MUCH MORE! Machinery Auctioneers is a full service auction company, with a personal touch. ... More Info
OILFIELD EQUIPMENT, BIG TRUCKS & TRAILERS, CONSTRUCTION MACHINERY AND MUCH, MUCH MORE! Machinery Auctioneers is a full service auction company, with a personal touch. ... More Info